Business Incubation Centres of CERN Technologies Meet to Discuss Innovation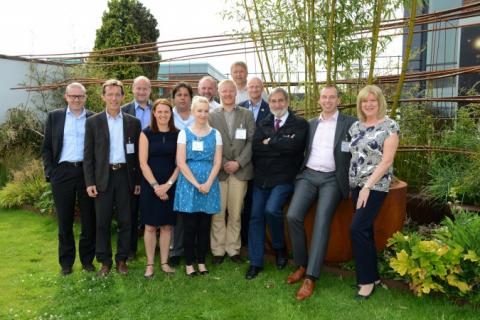 The managers of the Business Incubation Centres (BICs) of CERN Technologies met in the UK on 7-8th June with representatives of CERN's Knowledge Transfer group. This second annual meeting of the BIC network provided an opportunity to exchange best practices to foster entrepreneurship related to CERN technologies.
The BICs assist entrepreneurs and small tech businesses in taking innovative ideas from technical concept to market reality. They provide office-space, expertise, business support and access to local and international networks and support in accessing funding.
The BICs are now present in 8 different countries, three of which – France, Finland and Spain - joined in 2015. Five other BICs are present in Austria, Greece, the Netherlands, Norway and the UK. This international aspect is a true testimony of CERN's focus on regional collaboration. This year's annual meeting was held in Daresbury, which hosts CERN's first BIC, established in collaboration with the UK's Science and Technology Facilities Council (STFC).
The event helped the different BICs share information as well as their experiences, and contributed to strengthening the BIC network. Participants discussed concrete actions to increase the number of companies in the CERN BICs. These included suggestions of universities offering entrepreneurship or MBA courses that could be interested in jointly organising courses. Another lead included information on industry associations and small and medium enterprise (SME) networks useful to identify potential BIC candidates.
John Lewis, Managing Director of 2DHeat, a start-up hosted in the STFC-CERN BIC in Daresbury, was present at the annual BIC meeting. He reported with enthusiasm his company's positive experience within the BIC. "Our presence in the BIC was a door opener, and brought many new networking opportunities to our business," he said.
"The CERN brand is immediately recognisable to relevant leaders in industry, government departments, as well as potential investors," he continued. "It gives professionals an immediate understanding of the quality of our products and expertise." The 2DHeat start-up was the second incubatee of the STFC-CERN BIC, and has now successfully graduated. It is commercialising its innovative electric heating elements with an initial focus on high vacuum systems.
The 2DHeat Managing Director insisted that the positive benefits of the company's presence in the STFC-CERN BIC would continue beyond graduation, through the professional contacts and experience acquired while they were an incubatee.