Tenth CERN-NTNU Screening Week held at CERN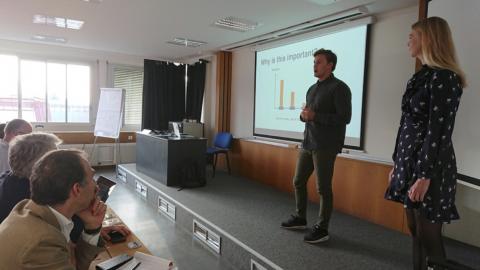 For the last decade, students from the Norwegian University of Science and Technology (NTNU) School of Entrepreneurship spend one week per year at CERN identifying the commercial potential of CERN technologies. 
The CERN-NTNU Screening Week is organised by the CERN Knowledge Transfer group and hosted at IdeaSquare. It boasts an intensive week of demanding tasks: students must understand a given CERN technology, identify new applications and assess if this can lead to a sustainable business.
To achieve this in a week, the  cohort of about 30 students perform extensive market research by making hundreds of phone calls during a busy week. NTNU coordinator, Even Haug Larsen, estimates that the entire group works more than an equivalent full-time employee does over a year.
During the CERN-NTNU Screening Week of 2012, a group of students investigated the potential for Invenio, a CERN open source software to manage digital libraries. A year later the CERN spin-off TIND was born, with Berkeley, Caltech and EPFL on their growing list of customers. Two more start-ups are currently in the making from the 2017 edition, respectively based on the CERN technologies C2MON and Quasar.
The tenth version of the programme was held this year, in parallel to the annual meeting of the CERN Business Incubation Centres (BICs). This meant the national BIC managers could attend the NTNU students' final presentations.
The first team presented new use cases for a robust fibre optic cable that monitors radiation in the accelerator complex, while the second team considered Collaboration Spotting, a data visualization platform used to identify relationships in complex datasets. The third team identified new markets for a shift planning tool currently used to manage complex shifts at CERN, and has already identified a potential pilot customer.
The CERN BIC managers highlighted the professionalism of the presentations. The programme's success is certainly linked to the students' skills and motivation in creating successful ventures from newly identified opportunities.